Checking the condition of the vehicle plays an essential role in the everyday life of a car rental company. The vehicle condition must be checked and documented in detail in order to manage the fleet efficiently and to monitor and reduce vehicle costs. Our damage management module enables the detailed documentation of the vehicle condition by storing damage visually and by category with the correspondent repair costs.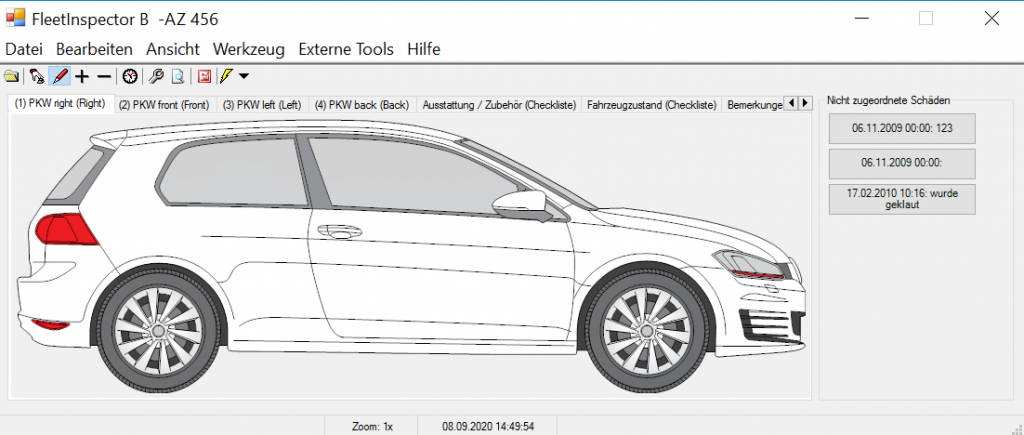 This module for Rentoffice Classic includes several functions. With our tip of the week we will first focus on the basics of the tool, which includes the visual documentation of the vehicle condition. Damage can be assigned easily to a vehicle part by using markers on sectional drawings. In addition, damage can also be documented with images, moved on the sectional drawing and marked as "repaired". The module allows the following basic features.
Recording new damages
Visual damage documentation with pictures
Generating points, lines and polygon markings on sectional drawings.
Describing and classifying damage by size, category and level
Relating damages with an accident entry
Moving a damage on the sectional drawing
Marking as repaired or deleting a damage
The condition recording is started by the corresponding vehicle from the vehicle list. It is also possible to record damages during checkout and check-in. However, editing or removing existing damage is only possible in the condition survey from the vehicle list.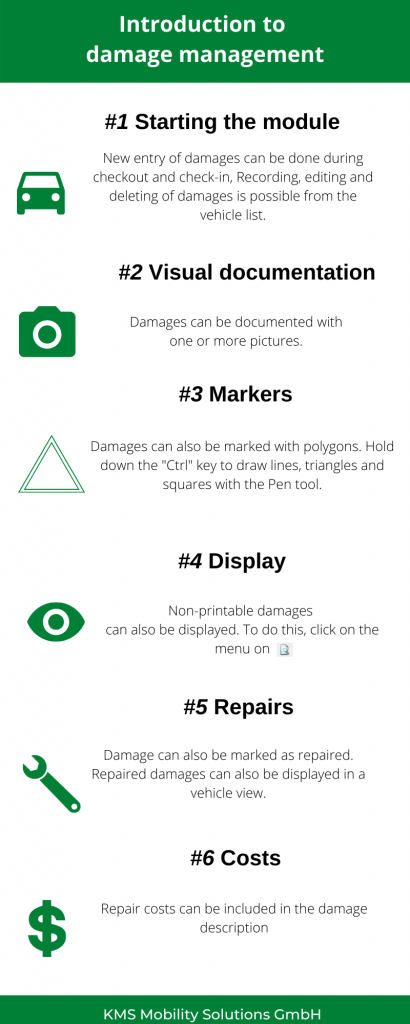 Click on our video to know more about recording, editing and deleting damages with our Rentoffice tool.
Sectional drawings, CateogoryDesigner and Fleetinspector
Sectional drawings can be assigned to a certain tariff groups under Parameter > Properties > 20 - Damage management > Assign sectional drawings. With the help of our CategoryDesigner, damage categories and types can be defined. This feature allows also the creation of control lists for the check-in and check-out processes. In our future articles we will explain more about these features. Meanwhile, you can find more information on damage management in our help section finden.
Furthermore, our new FleetInspector is already available as a beta version. It enables all the above mentioned functions as well as the mobile vehicle handover and return, so that the condition assessment via tablet can take place directly at the vehicle. We will tell you more about this in our next tip of the week!
More questions about damage management? Don't hesitate to contact us under support@rentoffice.de!