At KMS Mobility Solutions, we're excited to introduce our new "Third-Party Vehicle" Integration feature, designed to expand your fleet offering. This capability empowers you with the flexibility, variety, and efficiency needed to stay ahead in the dynamic world of mobility services.
Unlock Limitless Possibilities with Third-Party Vehicle Integration!
Experience the following functions:
Third-Party Vehicle Integration (MVP):
Take advantage of our MVP version for third-party vehicle providers, managing their vehicles seamlessly within your own back-office overviews.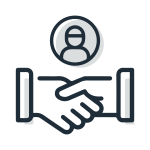 Key benefits –

Enhanced Customer Choice and Experience
Having a mobility budget for electric vehicles (EVs) in a vehicle fleet is crucial for several reasons, especially in the context of B2B mobility businesses focused on sustainability:
Offering a broader selection of vehicles enhances the customer experience, enabling clients to choose the vehicle that best suits their specific requirements.
Satisfying customer preferences can lead to higher satisfaction levels and repeat business.
Discover the unparalleled advantages of Third-Party Vehicle Integration with KMS Mobility Solutions. Elevate your fleet, delight your customers, and stay at the forefront of the mobility industry. It's time to embrace a new era of mobility services, tailored to your business needs.
Want to know more about Abo-OS?