We would like to thank all those who took part in our survey. Your feedback is crucial for the further development of our solutions and support and helps us to improve continuously. Together we are shaping the mobility of the future. Therefore, here are some of the results we would like to share with you.
Rentoffice Classic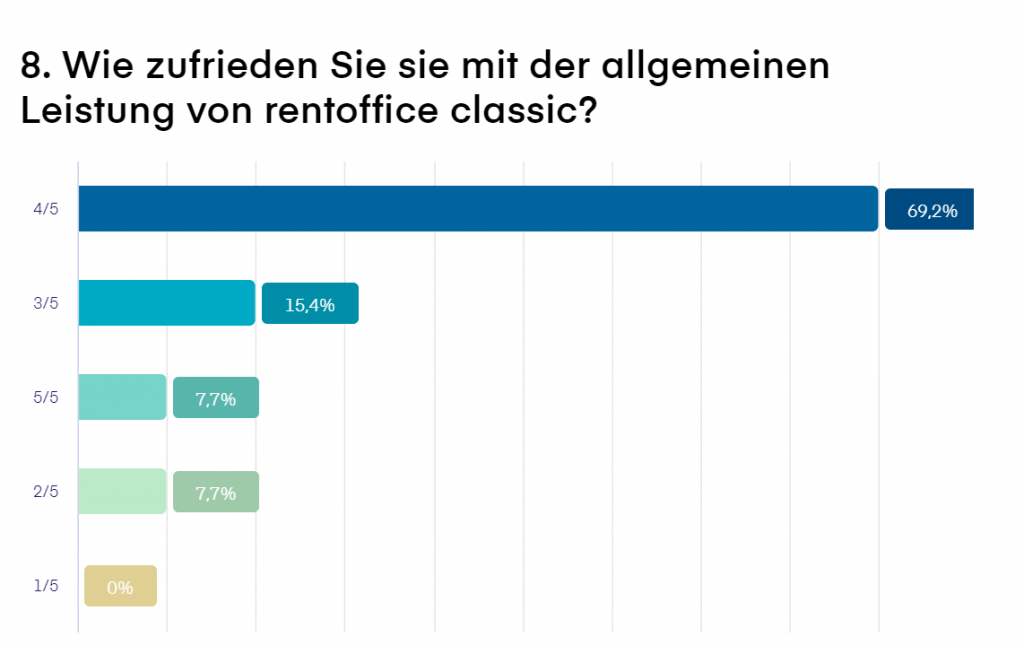 Our customers are satisfied with the general performance of Rentoffice Classic. Thus, 77% of those surveyed stated that they were happy or very happy with it. The same applies to the support rentoffice provides for their daily work. 68% of those surveyed rate Rentoffice Classic as helpful and very helpful in daily processes, while 15% of those surveyed were neutral.
On the other side the topic of usability of Rentoffice Classic offers space for improvement for our customers. While 54 % of those surveyed rated this aspect as good, 46 % rated it as neutral or in need of improvement. We are aware that Rentoffice Classic is a very extensive and sometimes complex solution. We are therefore continuing to work on improving our documentation in order to simplify the use of the software as much as possible.
Rentoffice Cloud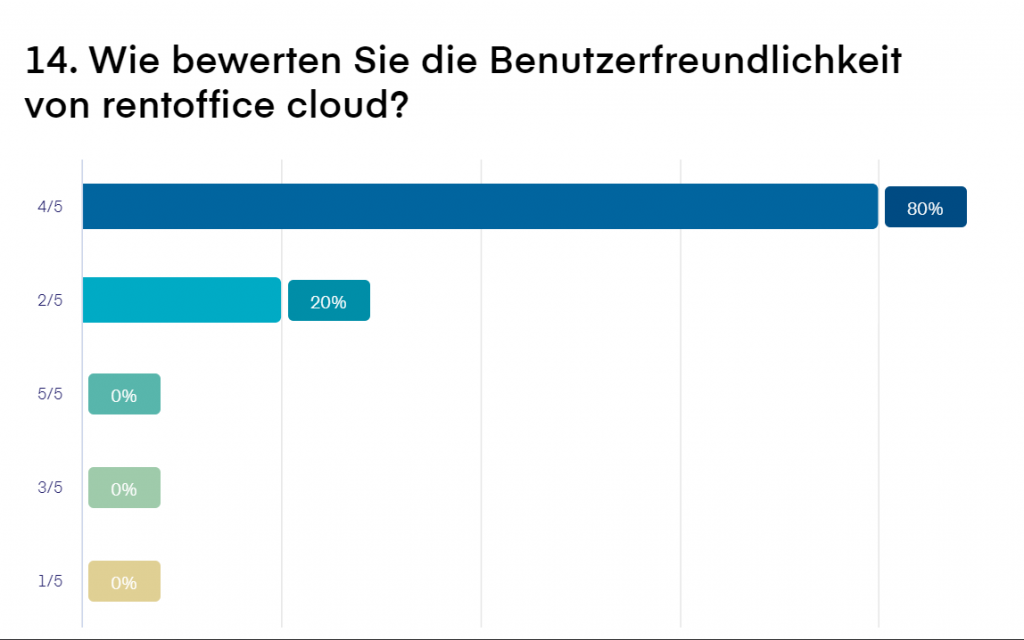 80% of the respondents rated the usability of our cloud solution with 4 to 5 stars! The general performance of our cloud software is rated equally well.
Regarding support provided for their daily processes, 40% of respondents point to further potential for improvement. Therefore, in addition to new features, some improvements will be made to simplify daily processes such as invoicing, cancellation, printing, etc. in Rentoffice Cloud.
Support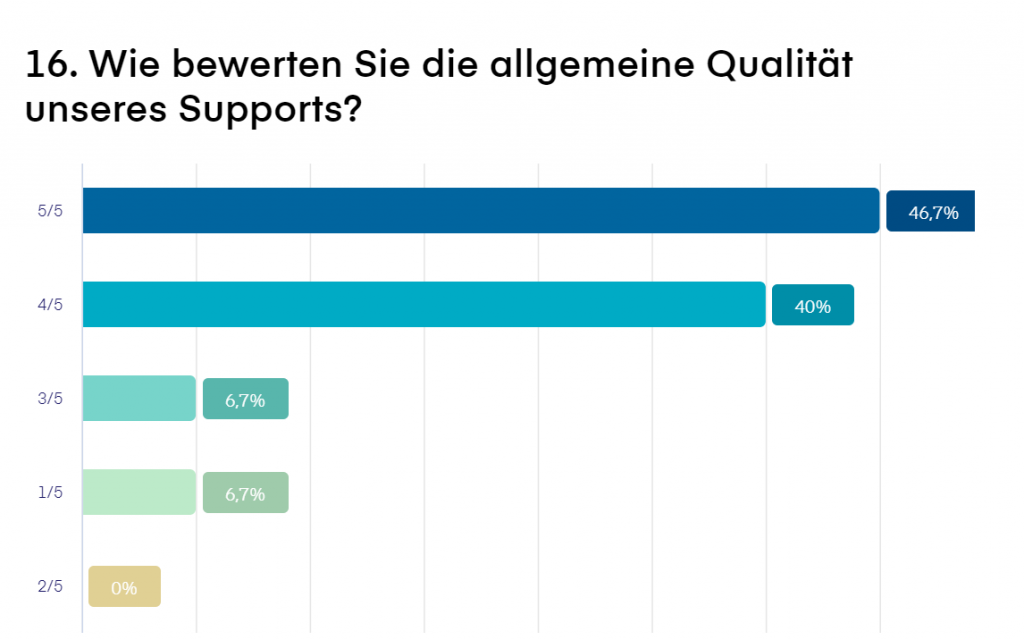 We are also pleased with the positive feedback on our support. The respondents are particularly satisfied with it! 86% claim to be happy or very happy with the general quality and speed of our support team. In addition, 80% of the respondents rated the friendliness of our team as very friendly. Thanks for that!
However, there is still room for improvement here too. The availability, which was only rated by 60% with 4 or 5 stars, has been limited due to the new home office situation as a result of the corona crisis. Nevertheless, we have again direct telephone support available on weekdays between 10 a.m. and 12 noon. This way, we want to simplify the contact with our customers again and make it more direct.
Recommendation rate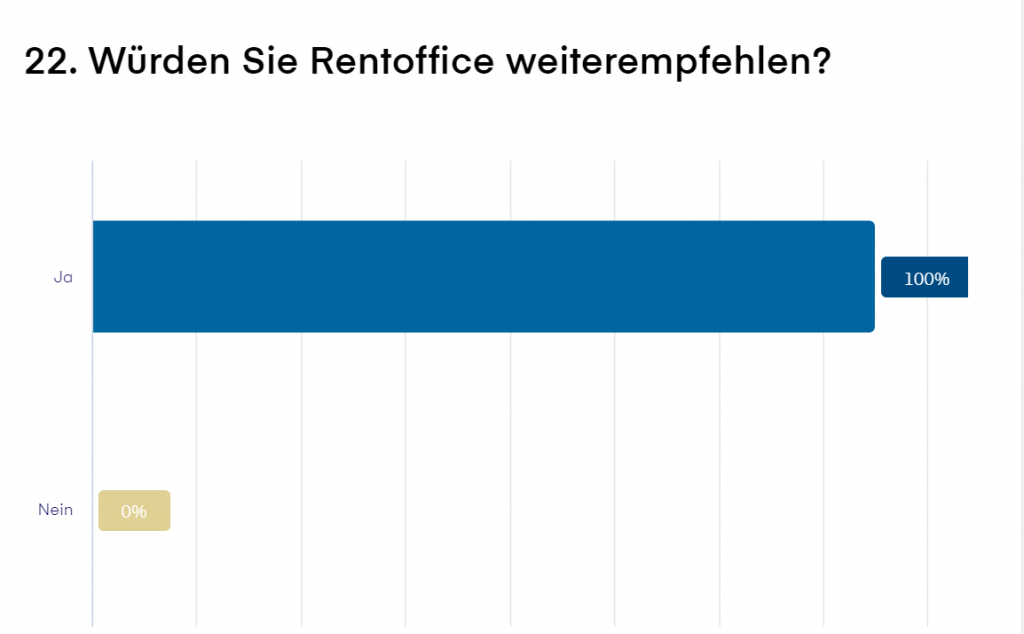 Besonders freuen wir uns über die Weiterempfehlungsquote. 100 % der Antwortgeber würden unser Produkt weiterempfehlen. Darüber sind wir natürlich sehr glücklich und möchten uns für Ihre Unterstützung und Loyalität bedanken.
With your feedback we continue to work on developing better and better solutions for you. Thank you!