We interviewed Stephan Siehl and asked him for a personal statement after 2 years at the helm of KMS.
2 years ago, when I took on the role as CEO / Managing Director of KMS, I outlined our plans for the future in a customer letter. Today I would like to give an update on how we see our role today, what has been achieved and how we see the future of mobility.
However, since our software is used to manage many thousands of vehicles every day, we have a special lever to use here. How can we use intelligent solutions to ensure that, for example, electromobility and more efficient vehicles are used more by end customers and thus find their way into our customers' fleets? How can analytics help reveal the true cost of a vehicle? All of this must be easy and transparent for our customers to use so that together we can make a contribution to greater sustainability.
All of this must be easy and transparent for our customers to use so that together we can contribute to greater sustainability.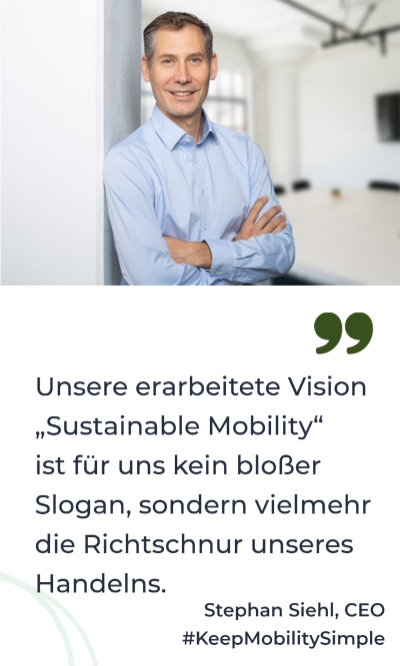 How do you see the role of KMS in the mobility market?

KMS has been providing solutions for all mobility service providers from sharing to subscription for many years. Our customer base includes classic car rental companies and dealers, car sharing providers, but also large companies with leasing offers and fleet management. Over the years, more than 100 companies in the DACH region have implemented their mobility concepts with solutions from KMS to delight their customers every day.
We are currently experiencing a time of significant change in the industry, where new technologies and customer needs are challenging existing business models while creating new opportunities. Traditional rental companies and car dealers are forced to question their business models and are looking for new solutions to offer their customers new forms of mobility such as car sharing and subscription.
I see it as my task at KMS to help shape this trend and to bring KMS and its customers successfully into the future with our solutions.
What is the vision and mission of KMS and how does KMS deal with the issue of sustainability?
The vision of KMS is "Sustainable Mobility" - we are committed to this in everything we do.
For example, currently many customers' fleets still consist mainly of vehicles powered by non-renewable fuels. Our goal is to support the diversification of fleets towards more sustainable forms of energy such as electric mobility.
Within the scope of our capabilities and our development expertise, we can contribute to instruments that help reduce CO2 emissions and thus limit the consequences of climate change in the long term. In addition to traditional rental and sharing, we are focusing in particular on operational mobility, which still accounts for the largest share of new fleet business in Germany.
To make this possible, we need to work together with our customers and their customers. This can only happen if we find simple and intuitive ways to make this a reality. This is what our mission #KeepMobilitySimple stands for!
How would you summarize the last 2 years in which you took over the management of KMS?
When I started at KMS 2 years ago, I defined three strategic pillars for the company. First: scaling our organization and processes in terms of quantity and quality. Secondly, state-of-the-art integrated solutions for all types of vehicle-based mobility, and thirdly, simplifying the handling of our solutions for our customers. To make this possible, it was necessary to change familiar structures. For example, we introduced agile development methods as well as a Customer Success Team for our products. In the meantime, we have built an international team from more than 7 nations. Thanks to this motivated team, we have already been able to achieve many of the milestones we set. Much is still being implemented, but I am very optimistic about the future of KMS - not least because of the positive feedback from our customers. 
How do you see the future of mobility?
The future of car-based mobility is dynamic and fascinating: in the near future, we will see further changes in this sector that will create new mobility opportunities and bring new challenges. I strongly believe that constant change will be part of the DNA of KMS, but also of its customers, but that we have all the levers to achieve positive results for our customers, but also for our planet, if we do it right.